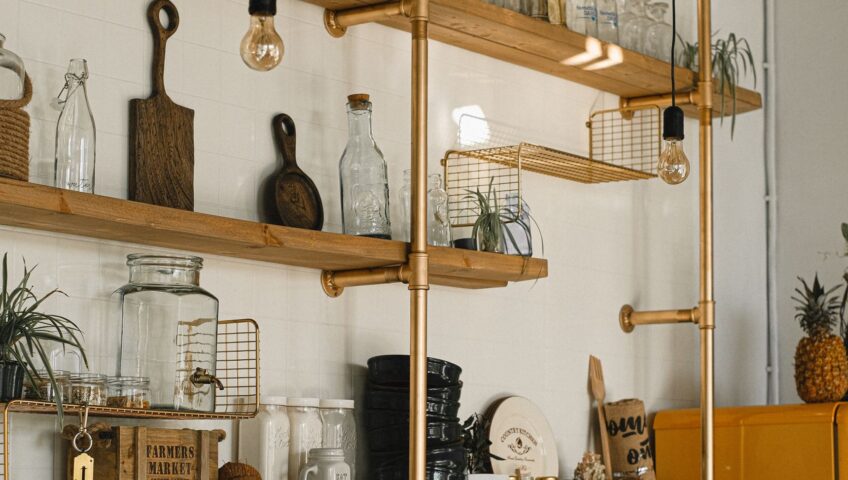 4 Storage Solutions for Small Spaces
Storage space is precious at the best of times, but even more so when you're short on square footage. If you've already taken steps to remove your household junk to free up space, next you'll want to find some handy storage solutions.
It can be tricky to know where to start with creating more storage in smaller homes. But by using these helpful methods, you can create more storage in your home and still save space.
Kitchen Island with Storage
If you have some extra space on your kitchen floor, but don't have many cupboards or surface space, a kitchen island can be a great solution. Not only does it give you some extra counter space for preparing food, but it can also provide ample storage space underneath, for food or kitchen equipment. You can either build in a static island, or for a simple solution you can get an island on wheels, so you can wheel it out when you need the counter space but keep it tucked away way when it's not in use and not lose any storage space.
Understairs Storage
You'll likely have some space underneath your stairs that isn't being utilised to its maximum potential. You can either use built-in cupboards to really make the most of this space or use modular storage solutions to build up storage to fit the space yourself. As well as cupboards, you can also build in shelving and even a small desk, to use as a mini work from home office. Or you can build in bookshelves and a storage bench for a multi-use mini library, reading nook, and storage.
Multi-Use Furniture
When you're living in a small space, multi-use furniture is always going to be a benefit, having twice the practicality without taking up double the space. Storage benches or ottomans can be used to store all types of things, from extra blankets to toys, and can be used for extra seats when you have guests. You can also get sofas and beds which have built-in storage space or drawers underneath, for even more storage space. You can also use a bookshelf that includes a fold-down table, so you can fold it down to eat meals or to work on your laptop and fold it back up when you no longer need the table.
Open Shelves
When you have a small space, you should make the most of as much wall space as possible. Open shelves are a simple way of adding more storage to your home whilst also maximizing the available space. They can be especially helpful in kitchens, giving you easy access to your equipment and staple foods. You can even style them so they look great as well as being practical – coordinate your kitchenware or use mason jars for your dry goods or that rustic feel!
If you want to create more space in your home, the best place to start is to get rid of the things you no longer need. Away With It offers house clearance services in Essex and East London, whether you need to remove just a few items or a whole property's worth. Our friendly team will take the stress out of removing your household junk, coming to your home at a convenient time, loading the truck with your rubbish, and sweeping up to leave your property clean and tidy. We can accommodate all types of property, from the basement all the way to the loft.
Contact us to see how we can help remove your household junk and create more space in your home.