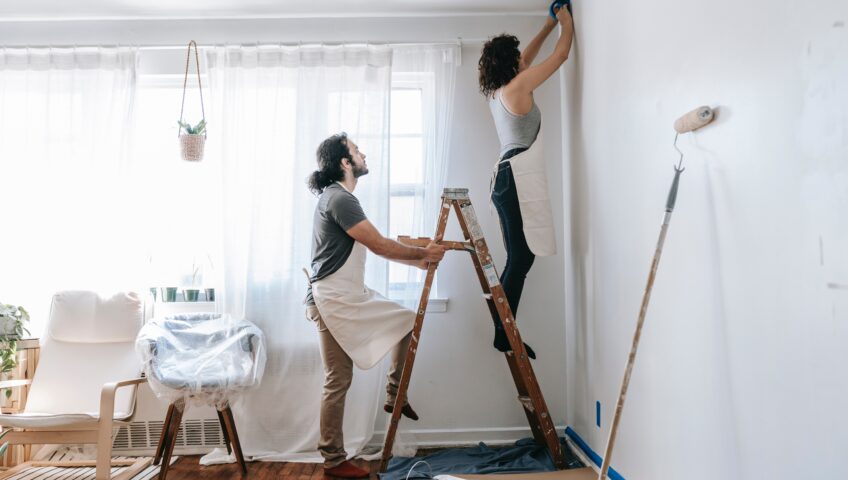 7 DIY Projects for the Weekend
Whatever the weather, a free weekend is the perfect time to tackle some of those tasks around the house that you might have been putting off.
Below are some easy DIY projects that you can get finished over the weekend. Remember that preparation is key, so plan out what you'll need and get to the shops early to avoid the rush!
Improve the Kerb Appeal
If the weather stays dry, use the opportunity to smarten up your front garden or entrance way. Remove any weeds from your driveway and path, mow the lawn and tidy up any flower beds or hanging baskets.
You could even paint your door a fresh new colour. Make sure to prime and sand your door first, before applying a couple of coats. It's a simple and effective way of smartening up the entrance of your home.
Clean Up the Garden
After a summer of kids playing in the garden and al fresco dining, your garden might be looking a bit worse for wear. Use the weekend to give it a good going over, trimming bushes and tidying flower beds. Sweep up any leaves that have begun to fall, to get ahead of the autumn deluge.
Give your outdoor furniture a clean so it's ready to be put away when winter comes. You could also use this opportunity to treat your furniture so it's winter-ready if you're unable to cover it or put it away. If you can get hold of a jet wash, you could also clean the patio or decking.
If you need garden waste removal, Away With It are insured and licensed professional waste experts and can quicky and efficiently remove any rubbish from your garden.
Upcycle Some Furniture
If you have some old furniture that's seen better days, you might be able to revamp it into something fresh. You could paint a coffee table, or use vinyl wrap to jazz it up. A simple sanding and colour change can bring new life into something you thought was past its best.
You could even upcycle an old chest of drawers into a planter for your garden. This tutorial can show you how.
If you have furniture that you no longer need and you aren't able to upcycle, it may be time to get rid of it. Away With It provides Essex house clearance services in the Essex the London areas, and we can remove one item or a whole household's worth – no job is too big or too small!
Clean out the Garage
You might have spent the year gradually filling up your garage with items to "sort out later". Now is the time to finally organise your garage properly and get rid of anything you don't use or need.
Away With It offer a fast and convenient garage clearance service, so we can take away all of the items you no longer want taking up space in your garage. We even provide an eco-friendly waste recycling service, with 95% of the waste we collect being reused or recycled.
Touch Up the Paintwork
You probably have little bits of scuffed and marked paintwork around the house. Giving them a touch up can really refresh a room. Skirting boards and door frames can especially show wear and tear and you'll be surprised how much a coat of paint can really brighten up a room.
If you fancy a bigger job than just touch ups, you could pick one room to repaint completely, to really give it a facelift. Lighter shades will help to make a room feel bigger, and bold colours can make a room quite striking.
Put Up Shelves
If you're struggling for storage in a room, putting up shelves can be a great solution. You can free up surface space quickly and easily with shelves and arranging them stylishly will help to bring the room together.
Pick a colour to complement the furniture you already have, or you can even paint your shelves the same colour as your walls.
Hang Some Photos
With so many photos on our phones, it can be easy to forget to get any printed and put up. Use the weekend to go through your photos and find the best ones to print and hang.
Find the right frames to match your room and try to get your frames in the same colour for a sleek look. Photos can be a great way to overhaul a hallway or stairway, where the walls are usually left bare.
If you're taking on a DIY project this weekend, Away With It can help with your waste removal. Whether you're clearing the house, garage, or garden, we can cater for any type of property to remove your waste safely and effectively. Contact us today for a quote.