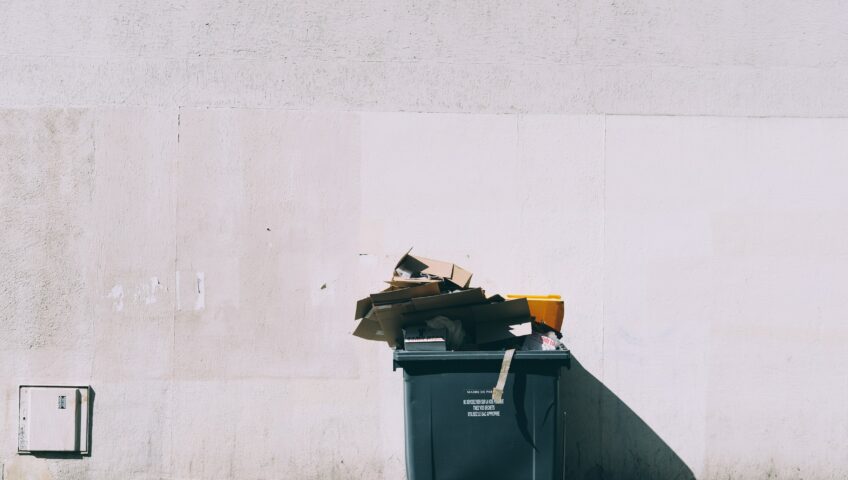 Commercial Waste and General Waste – What's the Difference?
If you have a business, you might be confused about the difference between commercial waste and general waste. Both commercial waste and general domestic waste will be treated differently and will need to be disposed of in different ways, even if you think the waste will consist of the same items.
As an expert in waste removal, below Away With It explains the difference between commercial waste and general waste, and what your responsibilities will for commercial waste removal as a business.
What's the difference between commercial waste and general waste?
Commercial waste is rubbish that's produced by a business. General waste will be produced by households.
There is usually no real difference in the type of waste that's produced by businesses or households – they could both include food waste, paper, packaging, etc. However, the council will have responsibility to remove household waste; with domestic waste, it is the responsibility of the business to safely have the waste removed.
What's classified as commercial waste?
According to the government website, commercial waste is classed as rubbish that's produced from any commercial activity. This will include if you use your home to conduct a business, for example, if you use a room in your home for beauty treatments or to build furniture to sell – the waste that's produced will be commercial waste.
It can also be produced through:
Construction
Demolition
Industry
Agriculture
What are my responsibilities for commercial waste?
As a business, you will have a number of responsibilities regarding your commercial waste. It is illegal to incorrectly dispose of your commercial waste and can also have a negative impact on the environment.
The government sets out business responsibilities for commercial waste as follows:
Keep waste to a minimum
Keeping waste to a minimum can be done with prevention, reusing, recycling, or recovering waste, in that order. So, your first task should be to minimise how much waste your business produces – this could be by not printing documents unnecessarily, reducing packaging, using reusable water bottles and cutlery instead of disposable, etc.
You should then ensure you're reusing and recycling as much as possible. Is it possible to reuse clean packaging, or perhaps find an alternative use for it, rather than throwing it away? Can you make measuring materials more accurate, to reduce spare offcuts, or maybe find another use for them? Whatever it is, you should consider if the item can have another life before you throw it away.
You can also help to keep waste to a minimum by having clearly labelled recycling bins around the business premises. This will help staff and customers to properly dispose of their waste and make sure the suitable waste is being recycled.
Sort your waste and store it correctly
You should ensure your commercial waste is separated. So, you should have your recycling separated from your food waste, for example, and your recycling separated from the rubbish that will have to go to landfill. Depending on your waste removal service, you may also have to separate your recycling, so you should store paper and glass in a separate container to glass, for example.
Your containers should be waterproof and lidded, with secure covers that won't be blown away or blown open. The containers should be clearly labelled to show what sort of waste is inside them. The containers themselves should be safely stored in a secure location.
Complete a waste transfer note
A waste transfer note will need to be filled out and completed for every load of waste that's removed from your premises. This will detail the kind of waste that has been removed from your premises, as well as details about your business and the provider that removed the rubbish.
You should keep a copy of this note for two years. You may be asked to show the note to an enforcement office from your local council or the Environment Agency if a problem ever arises with your waste disposal.
Use a registered waste removal company
You should ensure you're using a registered waste removal company, like Away With It, to dispose of your commercial waste. You can search for registered waste carriers on the government website here to make sure they're legally permitted to dispose of waste.
Ensure the waste removal company is disposing of your waste legally
Your business has a responsibility to ensure the waste carrier you use is disposing of your commercial waste legally. If you think they may be illegally disposing of your waste, you should report them to Crimestoppers.
Responsibilities for hazardous commercial waste
If your commercial waste includes hazardous waste, such as asbestos, chemicals, and pesticides, you will have extra responsibilities. You can find out more about disposing of hazardous materials on the government website.
How do I correctly dispose of commercial waste?
It's easy to arrange for your commercial waste to be disposed with Away With It. We're a fully licensed and registered waste removal company that has extensive experience with commercial waste disposal. We've worked with all sorts of businesses across London and Essex, including restaurants, cafes, retail outlets, estate agents, and nightclubs.
Simply call us on 0208 504 7390 or 07957 123019 to speak to the team about your commercial waste removal needs. Alternatively, you can email us on info@essexwasteremoval.co.uk or fill in our form online and someone will get back to you ASAP.
We can arrange quick and efficient kerbside collection for all your business waste, including recycling and landfill waste. Our uniformed team will arrive at the agreed day and time, loading all your waste onto our vehicle and even sweeping up the premises so it's left clean and tidy.
95% of the waste we remove is diverted from landfill, as we ensure all suitable waste is taken to relevant recycling stations. When you use Away With It for your commercial waste clearance, you'll have peace of mind that your business has a better impact on the environment.