Away With It offers professional and efficient waste removal services across London and Essex, including skip hire. We can also offer you completely hands-off waste removal services for your home or business, a cost-effective solution that can also save you the hassle of loading up a skip.
East London Skips
If you're having building work done in your home or business premises in East London, if you're redoing your garden, or if you're just having a big clear out, you'll need somewhere to put all your waste. This is where skip hire can be of benefit, giving you somewhere to put your rubbish and letting you to work at your own pace.
Away With It can offer you a range of different skip sizes, so you can find the right one for the job you'll be doing. We're proud to always have a timely delivery and collection, so you'll know exactly when to expect us. We get your skip to you in a very quick time once the paperwork has been sorted and we can also collect and/or empty your skip as and when requested – often even on the same day.
The Alternative to East London Skip Hire
Away With It also offer another service, which can often be more cost-effective than skip hire. If you're hiring a skip, you'll usually have to pay "by the skip", so if you have a smaller job you'll find that you're paying for space that you aren't using. There's also the question of where you put a skip – if you leave it on your driveway, you'll have to find somewhere else to park your car. If you don't have a driveway to put it, you'll have to get a permit from the council to leave it on the road.
Instead, our waste removal services in East London can be a better alternative. Our professional team will come to your home or business to collect any and all of the waste that you need removing. We'll do all the heavy lifting and make sure we sweep up when we're done, so your property is left neat and tidy. Plus, with our waste removal services, you'll only ever pay for the space that you use in our vehicles.
Contact us to book a flexible same-day removal service. We can take away all types of rubbish in and around East London, whether it's house clearance you need, garden waste removal, or office clearance. We can take just one item or several skips worth – just let us know how we can help.
East London Skip Hire Locations
The Away With It depot is based in Buckhurst Hill and we can provide skip hire and waste removal services across East London and Essex. Our most popular locations include:
Why Waste Removal is an Easy Alternative to East London Skip Hire
Our uniformed clearance teams will do all the loading of your rubbish.
Our lorry holds up to three times the amount of a regular skip.
You only pay for the percentage of the lorry you fill.
No need to worry about other people dumping rubbish in your skip.
No need to worry about finding space for a skip.
Of course, if a skip is what you need, we'll be happy to arrange that for you. Just contact us today for a competitive quote and first-class skip hire service.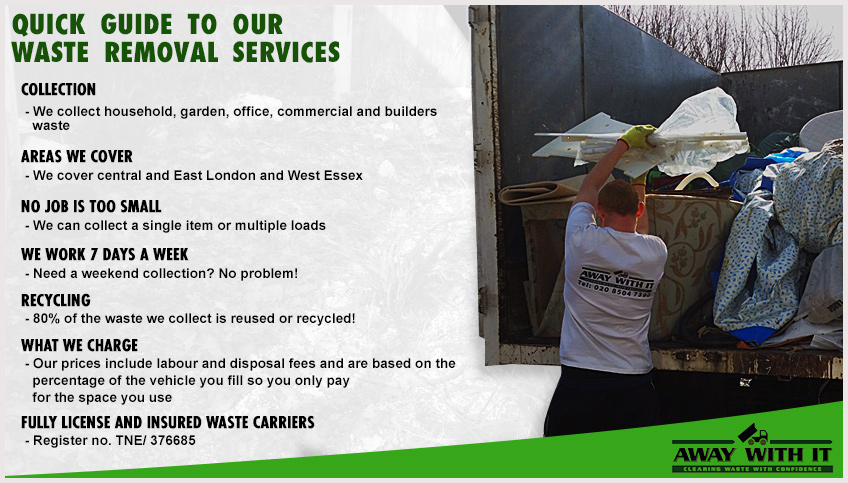 Frequently Asked Questions
What are East London skip hire prices?
East London skip hire prices will vary depending on the size of the skip and how long you need it for. Away With It can provide many different sizes of skips and can give you a competitive quote for your skip hire. Or, if skip hire isn't the most cost-efficient solution for you, we can provide waste removal services instead. We can take away one item, or a whole lorry's worth – our vehicle can hold three skip's worth of rubbish.
Where can I find mini skip hire in East London?
Away With It have a range of skip sizes so you can find the right one for your needs. However, if you only have a small amount of waste that needs to be removed from your property, you might find it easier and more cost-efficient to use our waste removal services instead. No job is too big or too small – we can take away just one item and you'll only pay for the space you use on our vehicles.
Can you put anything in a skip?
You can put all manner of rubbish into skips, bar hazardous materials and certain electrical items. The household waste that you can dispose of in a skip includes:
• Tiles
• Plaster
• Wood
• Furniture
• Paper
• Cardboard
• Clothes
You can also put garden waste in a skip, such as:
• Bricks
• Concrete
• Metals
• Pottery
• Clay
• Rubble
• Stones
Can you put a skip anywhere?
You can put a skip anywhere on your own private property, including your front garden or driveway. If you don't have anywhere suitable to put a skip, you will have to contact your local council to see if you can put a skip on a public road. You can't put a skip on the pavement.
If you don't have anywhere suitable on your property to put a skip, Away With It offers professional waste removal services in Essex and East London. We can come to your home or business to remove all types of rubbish quickly and efficiently, making our services a great alternative to skip hire. Contact us to speak to our team about your waste removal requirements.