Looking for a fully licensed, punctual and affordable waste removal service in Clapton E5, but struggling to find someone to fit the bill? Away With It can be the answer to your prayers! For years, we have been providing waste removal services to the people of Clapton E5 and the surrounding areas, and over that time have built up a reputation for our friendly and professional service.
We offer a wide range of waste removal and rubbish collection services, from small-scale house clearance services right up to large-scale commercial waste collection. Whatever your waste removal problem, we aim to provide a solution!
Our Waste Removal Services in Clapton E5

Clapton E5 Builders Waste Removal
Clapton E5 Commercial Waste Removal
What Can We Do For You?
Our Clapton E5 waste removal services are geared wholly with our clients in mind, and we are committed to providing a flexible, ethical service without making you break the bank.
We operate 7 days a week, from 7am to 11:30pm. This enables us to work around the busiest of schedules, and as we book in two-hour slots, you'll know exactly when to expect us.
Our payment system is transparent and flexible. We provide a comprehensive, no-obligation estimate before we start any job, and as you only pay for the space you fill in our truck, you are guaranteed a fair place no matter what size the job is.
We are fully licensed and regulated, so you can rest assured that your waste is being disposed of properly.
Our uniformed teams do all the hard work, heavy lifting tidying up for you – you don't need to lift a finger!
On top of that, we seek to prove that waste removal can be ethical. Although some waste does, of course, have to go to landfill, here at Away With It we are proud to say that 80% of all the waste we collect is either reused or recycled.
Speak to us today about our fast and reliable waste removal services in Clapton E5!
Interesting Facts About Clapton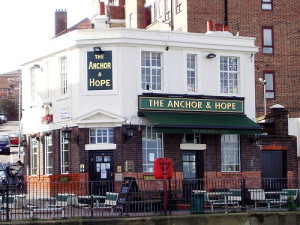 Clapton, located in the north London borough of Hackney, was known as Clopton – meaning 'farm on the hill' right from its earliest mention in 1339 up until the 18th century. Building in Clapton started in earnest in about 1775, eventually spreading to Homerton until the two were no longer separated.
Upper Clapton and Lower Clapton were initially distinguished by manorial courts in the early 19th century, and these names soon passed into general use and are still used today, the areas generally separated by the River Lea. A good deal of green space still exists in Clapton to this day, most notably Springfield Park, which was created from the grounds of three local mansions.
During World War II, the area was hit heavily by the blitz, with much of the Victorian terraced housing being destroyed. A few much-loved survivors include Springfield House, which borders the park of the same name, and the Anchor and Hope pub, which is now overshadowed by post-war development.
Notable landmarks in Clapton include The New Synagogue, a Georgian style Grade II listed building and the Church of the Good Shepherd, initially built by the Agapemonite cult in 1892. People from Clapton include journalist John Diamond, author Sir Anthony Hope and playwright and dramatist Harold Pinter.
Useful Local Resources
http://www.hackney.gov.uk/index.htm – Your local council website
http://www.dianeabbott.org.uk/ – Diane Abbott, your local Member of Parliament
http://www.hackneygazette.co.uk/home – Your local newspaper, covering news and current affairs across Hackney and the surrounding area