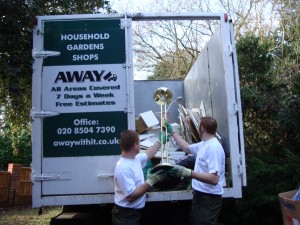 If you are seeking a trustworthy house clearance provider in Woodford Green, look no further than Away With It. Fully licensed and insured professionals, the friendly teams at Away With It have been helping residents in the area with their house clearance needs for over 10 years. Whether clearing out the attic or preparing to move house, we provide affordable solutions that are entirely bespoke to your requirements.
Tailored House Clearance in Woodford Green
Whether you want one room or an entire property clearing, no job is too big or too small for the Away With It team. Even if you feel like you have a tricky case or a home with awkward access, we will assess your needs to make sure the job is carried out in the most efficient and cost-effective manner possible.
Logistics aside, we know how important it is that your house clearance fits in with your plans. Unlike other providers, Away With It are accessible 7 days a week between 7am and 11:30pm. Somebody will always be at the end of the phone to help you. No longer will you need to spend annual leave or rejig your plans, you are the customer and we will create plans that make your life easier.
Why Choose Away With It for House Clearance?
Knowing that we are fully licensed and insured gives our customers peace of mind that we are abiding by all the correct regulations. Our level of professionalism and responsibility extends to the environment as well. We can remove virtually all non-hazardous waste and instead of polluting the earth we recycle 80% of what we retrieve from properties.
Our ability to create custom plans for each of our clients means that our customer service is unparalleled. Do you know any other companies that 100% fit in with your schedule? With no disruption to your day and customer access 16 hours and 30 minutes a day there is absolute clarity and efficiency when choosing Away With It for house clearance in Woodford Green.
Get in Touch Today!
Wanting to get rid of a couple of items? No problem. Likelihood is we will give you a free no-obligation quote over the phone and, if you're happy, we might be able to pick up the same day if one of our fleet is free. If you have a larger job or would like some advice, one of our team will pop to your property to discuss your requirement and provide you with a quote. No need to decide there and then, please feel free to think it over.
If you want your home cleared get in touch today to find out more about our house clearance service. Save yourself from unnecessary heavy lifting and shifting and give us a call on 0208 504 7390 or 07957 123019.
.