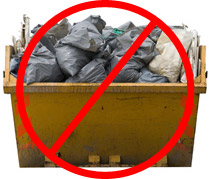 Away With It are a professional waste removal company located in Essex, offering cost-effective skip hire, as well as a multitude of other services. They are fully licensed and insured, giving their customers peace of mind at all times. We know that trying to get rid of your household waste can be a real headache but, Away With It can create a bespoke skip hire package to suit your requirements. If you have never hired a skip in Clapton before, let us talk you through the options available and how we can help you get rid of your unwanted waste when it suits you.
Traditional Skip Hire in Clapton
Having been offering skip hire as a service in Clapton for over fifteen years, Away With It regularly see customers returning as they were so pleased with results from previous jobs. We are championed for our efficiency and cost-effective solutions. Unparalleled customer service and timelessness are our focus and we ensure our customers get the best service possible.
Many of our previous customers repeatedly come back to us due to our flexibility; we are open between 7am and 11:30 pm, seven days a week. This gives you complete scope to book services for when it best suits you. Did an unforeseen circumstance pop up? No problem! Give us a ring and one of our friendly team will happily reschedule or find an alternative for you. At Away With It we do everything to make our customer's lives as easy as possible.
Once you have discussed your perfect skip hire plan with a team member, we will make sure we have the full details of the job and any special customer requirements. We customise our services to suit you and, even if you think you have a tricky case, get in touch and talk to one of our friendly advisors. We will always create a bespoke strategy to make sure the waste cluttering your home is out of site as soon as possible.
A Skip Hire Alternative
Don't get us wrong, skip hire can be a fantastic option for some clients. However, did you know we also offer a popular alternative? We have a fleet of two-man waste removal teams ready to come and clear any waste you are looking to get rid of. Our waste removal teams are a fantastic option for those seeking same day removal, or a very affordable option.
The benefits of our two-man teams are countless and we aren't limited in any way, shape, or form. Whether you have a lone chest of drawers, or an entire house full of clutter you want rid of, we can help. No job is too big or too small. The teams can load their trucks as many times as necessary and you will only pay for the final volume of waste removed.
The best bit of all…you can sit back, relax, and enjoy a cup of tea. Our two-man waste removal teams will do all the heavy lifting and leave your property spotless.
Skip Hire or Waste Removal in Clapton?
If you are confused as to whether waste removal or skip hire would be the best solution for you, simply give one of our friendly advisors a call and they will be able to talk you through the benefits of each. Alternatively, we have experts on hand to visit your property and assess the job that needs doing. They will be able to give you the best option and give you a no obligation quote on the spot, helping you to decide.
Whatever choice you make, we want to help you get rid of your waste as efficiently and quickly as possible. If the circumstances are appropriate, we can even take you waste away right there and then.
To discuss your options for skip hire in Clapton and get a competitive quote please contact us at 0208 504 7390 or 07957 123 019 for further details.