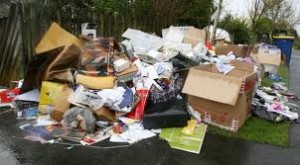 If you are seeking affordable and speedy house clearance in Clapton, then get in contact with Away With It today! We are a fully licensed and insured firm which gives our customers peace of mind. We are all about flexibility and reliability and, after building up a fantastic reputation over the past fifteen years, we see clients coming to us time and time again. We can take the stress out of house clearance and the job will be completed effectively, with our teams leaving your property immaculate when finished.
Flexible House Clearance in Clapton
Are you worrying about how to shift heavy items from your home? Do you have no idea where to get rid of your old furniture and white goods? No job is too big or small for Away With It and we have the capability to remove one item, or clear an entire house. So, if an old fridge is getting on your nerves, or an entire shed needs gutting, just give us a call.
At Away With It, we understand that house clearance is not your number one priority. You know you're desperate to get rid of all your clutter, but you simply have no time. Fortunately, we are open from 7am to 11:30pm, seven days a week. As a result, we can fit in seamlessly with your plans and leave the dates and times up to you.
Once you have settled upon house clearance from Away With It we will provide you with a two hour guaranteed time slot as to when your house clearance team will arrive. There will be no waiting at home all day. Furthermore, our teams will give you a call when they are on their way to your property, so never fear popping out to run errands quickly.
A Reliable House Clearance Firm
Although we are championed for our timelessness and flexibility, it is not just these features that make us stand out from the crowd. Customer satisfaction is at the heart of Away With It and our teams will always deliver the best possible service at all times.
Do not forget that we are fully licensed and insured waste removal experts. This means that your property is being cleared by professionals that abide by all regulations. We also take a green approach with all our services and recycle 80% of the waste that we remove. Furthermore, we are able to clear almost any non-hazardous waste and maintain respect for your property at all times.
If you have a specific budget in mind for your house clearance, you will always pay the best possible price with Away With It. Unlike other companies, we charge by volume of waste removed, as opposed to 'loads'. This guarantees that our house clearance services are cost-effective, and you only need ask and we will tailor our house clearance to suit your pocket.
Get in Touch for House Clearance in Clapton
We know that having unwanted waste and clutter around can cause a lot of stress. Away With It can help relieve any headaches and we can even help you same day. A simple call to one of friendly team will have the ball rolling and we can remove the chaos.
We will always arrange a time that is most appropriate for you to give a no obligation and, if you're 100 per cent happy, we can arrange a time and date to come and clear your house.
If you want to discuss house clearance in Clapton, give us a ring on 0208 504 7390. We are happy and available to take your call 7 days a week, from 7am to 11.30pm.