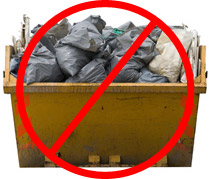 We know that hiring a skip in Loughton isn't easy. There are so many suppliers clamouring for your business; how do you choose the best skip hire company?
Here at Away With It we're not just based in Loughton, we've also been offering skip hire services in the area for years. If you're based in Loughton then we're just down the road; this means a speedy and cost-effective local service.
Save Money, Save Effort
There are dozens of companies willing to rent you a skip, but Away With It is no normal waste removal firm. We offer a range of services which includes skip hire, but also a range of other waste removal services.
What this means is that we can offer you a range of services, some of which have the potential to save you money and effort. For example, depending on the volume and type of waste you need to get rid of, you may well find it cheaper and easier to let our two-man team come around, load up our removal van, and then take it away on the spot. No waiting for your skip to be picked up, and no having to lug heavy furniture, builders waste and other rubbish yourself.
When you call us we'll discuss the options open to you, so you can make an informed decision about the best possible option for your situation.
Why Choose Away With It For Skip Hire?
You're busy, we know that. Here at Away With It we pride ourselves on our reliability and communication. For example, once you've decided you've decided on which service suits you best we'll be provide you with a guaranteed two-hour slot. We'll even ring in advance to confirm that we're on the way. What's more we're able to arrange early morning, evening or weekend pick-ups, and often within a matter of days. Depending on work load we may even be able to collect today!
If you value your time (and your back!) why not give us a call today to see how our skip hire and waste removal services stack up?
Your Local Loughton Skip Hire Firm
Here's how it works. Just give us a call and we'll be happy to pop round and give you a no-obligation quote. We'll arrive at a time that suits you, so you can fit your skip hire around the rest of your life.
If you're happy with the quote then we can arrange the best time to deliver your skip – or our team can even take away your waste on the spot using our fully insured van. The choice is yours!
Possibly the best thing about the "Away With It" experience is that our waste removal service only charges you for the space you actually use. In this way if you haven't got enough to make filling a skip worthwhile you could find you save quite a bit of money.
Whether you're looking for waste removal or skip hire in Loughton, why not give our friendly team a call today. The sooner you ring, the sooner you'll be rid of that rubbish.
Simply call us on 0208 504 7390 today for your free, no-obligation quote.