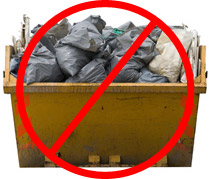 If you are in the midst of building work, or are finally getting around to clearing out the spare room, skip hire in Woodford Green could be the ideal solution. With a local branch of Away With It located up the road in Buckhurst Hill, it could not be easier to get reliable and cost-effective skip hire. We have been offering services in the area for years and we are full of local knowledge. There's no need to worry when it comes to space, access, or permit issues.
Save Money, Save Effort
There are skip hire firms left, right, and centre. How so you know Away With It are the best in the business? We are no normal waste removal firm, we recycle 80% of the waste we take away from properties and we are also fully licensed, unlike other questionable firms. Not only that, but we also offer a range of waste removal services as well as skip hire.
This means we can offer you're a range of services, some which have the potential to save you money and effort. Depending on the volume of waste and the length of your project, it may work out cheaper for you to let out two-man team pop round, load up the van with your waste, and take it away there and then.
When you give us a ring we will take your through all the fantastic options available, so that you can make an informed decision that suits your scenario and budget.
Why Choose Away With It For Skip Hire?
Our customer service is second to none, and we pride ourselves on being reliable and flexible. With us it is all about you, as we know you are busy and need efficiency. Communicating with us couldn't be easier, we are always on the end of a phone and ready to discuss any details about your booked service. Upon booking the best service for you, we will provide you with a guaranteed two-hour slot. Don't panic if you need to pop out swiftly though, we will always give you a call letting you know we are on our way.
We work 7 am to 11.30 pm, weekdays and weekends, making it easy to pick a time that suits you. Depending on our work load, we may even be able to help same day!
If you value your time and don't fancy putting your back out, leave it to our experts. Why not give us a call today to find out more about our skip hire or waste removal services?
Your Local Woodford Green Skip Hire Firm
Sounds ideal, right? Want to take the next step? Simply give us a call and we will be happy to pop round and provide you with a no-obligation quote. Timing is all about you, and we will work our visit and service around your life.
If you are happy ith the quote provided, we can drop round a skip as soon as possible, or a team can drive round and take your waste away on the spot using one of our fully insured vans! The choice is yours!
Whether you're looking for waste removal or skip hire in Woodford Green, why not give our friendly team a call today. The sooner you call, the sooner you'll be rid of that annoying waste.
Simply call us on 0208 504 7390 today for your free, no-obligation quote.