Sick of your Chigwell IG7 front or back garden being full of DIY or builders waste? Looking for a firm that can help you get rid of this with a minimum of fuss? Away With It can help. Covering the whole of the IG7 postcode, we supply builders waste removal Chigwell companies and residents choose time and time again.
Simple, convenient and affordable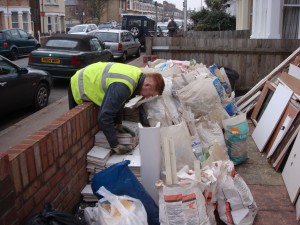 Whether you need to remove old bathroom and kitchen fittings; rubber and masonry; plaster; soil; cables and wiring, our friendly two person, uniformed teams can help.
We're fully licenced waste carriers, so you can be assured that all of your DIY and builders waste will be properly disposed of. And because we reuse or recycle 80% of all the DIY and builders waste we handle by choosing us you'll be doing your bit to help remove waste to landfill too.
How our services work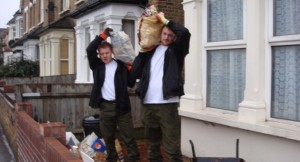 Using our DIY and builders waste removal service is easy. We work seven days a week from 7am till 11pm across the whole Chigwell IG7 area.
Just say when you'd like us to visit, and we'll give you a two hour time slot. Then an hour before we arrive, we'll call you with a free, no obligation estimate which includes labour, transportation and disposal fees for our DIY and builders waste disposal service. We only charge you for the space your waste actually uses in our van, meaning no hidden costs when it comes to paying the bill.
What's more, if we have to shift any builders waste through your house during the removal process, we'll put down our own dust sheets, and even give the place a sweep and tidy up before we leave – we won't leave you to 'DIY'!
Give us a call to discuss your requirements
Want to find out how much time, money and hassle we can save you? We'll be more than happy to discuss your requirements for builders waste removal Chigwell. Just give us a ring on  0208 504 7396 or 07597 123019, or use our online enquiry form for a quick and competitive quote.