Looking for a reliable and fully licensed local company to take away your South Woodford rubbish or junk? Look no further! Away With It is one of South Woodford's leading waste removal and rubbish clearance companies. We have been providing waste removal services to businesses and residents in the E18 area for more than a decade. During that time we have built up a large and loyal customer base in the local area based on our reputation for fast, friendly service at competitive prices.
We cater for all types of property and provide a full range of waste and rubbish removal services, from house, garden, garage and office clearance to clearance, DIY and builders waste removal and a daily commercial waste service.
Our Waste Removal Services in South Woodford E18
South Woodford E18 House clearance
South Woodford E18 Garage clearance
South Woodford E18 Garden clearance
South Woodford E18 Office clearance
South Woodford E18 Builders waste removal
South Woodford E18 Commercial waste removal
Reasons To Choose Us For Your South Woodford Waste Removal Needs
Here are a few more reasons to choose us to take care of your South Woodford waste removal needs:
We operate 7 days a week and offer a same day service so you can call us in the morning knowing your waste or junk will be gone by the evening!
Bookings are in 2 hour slots and our friendly two man clearance team will always call ahead to let you know when to expect them so you're not left hanging around.
Before starting work we will provide you with a competitive, no obligation estimate. All our prices include labour and disposal fees, so there are no hidden costs. If you're happy with our competitive prices we can start your removal the same day.
Our prices are based on the percentage of the vehicle you fill so you only pay for the space you use, saving you money.
We do all the lifting and loading for you and will even clean up and leave everything neat and tidy after so you can just sit back and relax.
We are fully licensed and regulated. All the waste we collect is transferred safely to a recycling or disposal station and disposed of responsibly.
We are fully insured in the unlikely event we have an accident on site.
Talk to us today about our fast and reliable waste removal services in South Woodford E18!
Interesting Facts About South Woodford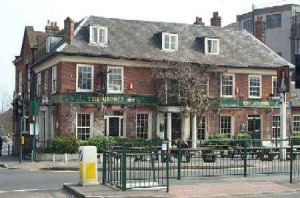 In the Middle Ages South Woodford was a hamlet surrounded by Epping Forest in the county of Essex. From about 1700 onwards it became a place of residence for wealthy Londoners. Woodford appears in the 1086 Domesday Book as Wdefort, although its earliest recorded use is earlier in 1062 as Wudeford. The name is Old English and means 'ford in or by the wood'.
The George Inn is one of 5 inns in Woodford in 1753: the others being the White Hart, Ship and Castle, New Wells, and Old Wells.
Many of Woodford's more distinguished residents have been wealthy landowners. Among them were at least three lord mayors: Sir John Lyon and Benjamin Thorowgood, who were lords of the manor, and Sir Thomas White (lord mayor in 1877). Michael Godfrey (d. 1695), son of a London merchant who lived at the Rookery, George Lane, became deputy governor of the Bank of England, which he had helped to establish. Job Matthew, governor of the Bank, was buried at Woodford in 1802. Sir Thomas Rowe, the explorer and diplomatist, was lord of Woodford manor, and was buried in the church.
William Morris, writer, artist, and craftsman, spent his childhood at Woodford Hall 1840–8. Sylvia Pankhurst (d. 1960), suffragette leader and writer, lived at Woodford for many years.
Sir Winston Churchill (1874–1965) represented Woodford in Parliament from 1924 to 1964. In 1959 a bronze statue of him was erected on Woodford Green.
Useful local resources:
http://www.redbridge.gov.uk/ – Local council website for South Woodford.
http://www2.redbridge.gov.uk/cms/parking_rubbish_and_streets/rubbish_and_recycling/reuse_and_recycling_centres.aspx – Your local tip and recycling centre.
http://www.guardian-series.co.uk/ – Local newspaper, covering news and current affairs in South Woodford and the surrounding area.
http://www.johncryermp.co.uk/ – Your local Member of Parliament.