When you look out on to your garden or outdoor space, what do you see…?
Do you see a haven of peace and tranquillity, a safe place for the children to play and a place to sit and enjoy the sunshine?
Or, do you see a garden that has become full with items no longer used, such as the huge trampoline that has seen years of use, but now stands forlorn and forgotten? Or maybe, there is no one specific item but a collection of 'things'?
There is an effective solution and it costs far less than you think…
Garden clearance South Woodford E18, brought to you by the professional waste clearing company, Away with It!
Effective – as a licensed waste carrier, we can collect, clear, process, dispose and recycle virtually anything, from the bulkiest of washing machines to the old paints and stains in the garden shed
Quick – we also work quickly on any garden clearance in South Woodford so that you can once again, enjoy your garden. But don't think that this means we are slap-dash – far from it! We work quickly, but with care; we even sweep up when we are finished.
Low cost – we assess and quote for each garden clearance in South Woodford individually as no two jobs are the same; you pay for what we do, nothing more. Better still, the price quoted IS the price you will pay – there are no sneaky 'extras' or additional fees added!
Can we take anything?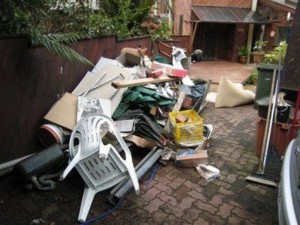 More or less! This is one of the reasons why we assess each and every job, so that we know what needs removing – it may be that we need more than one vehicle OR, we may need to use one of or specialist vehicles for larger bulkier items.
Quantity is not an issue either; we can clear large loads, as well as one or two items…
Garden furniture
Toys including trampolines, plastic outdoor toys, paddling pools, play centres, swing sets, climbing frames etc.
Sheds and other outbuildings (we can dismantle too!)
Gardening equipment such as tools, lawn mowers, strimmers, leave blowers etc. (broken or otherwise)
Anything else you can think of…
Recycling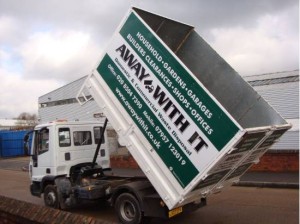 We all know how important it is to recycle; this not only helps the environment with certain component parts of itemsbeing re-used but it also means that the landfills have less being dumped in them. Landfill sites are nearly at capacity but, as waste decomposes, it gives of methane gas. This gas has been scientifically proven to contribute to global warming, an issue that affects us all.
Here at Away with It, we are proud of our high recycling rate; the vast majority of items we clear and remove through a garden clearance in South Woodford and re-used or recycled. As local facilities expand and improve, we know that this figure will carry on growing – eventually, every item we no longer want or need will have another use!
So, to claim your garden back and have all the unwanted items removed, contact us to see just how competitively priced a garden clearance in South Woodford E18 actually is…