Looking for skip hire Whitechapel E1?
If you're planning a big building project or moving home and have a lot of junk to get rid of you may think that skip hire Whitechapel is your best option. However, that's not always the case. If you live in a residential community, the presence of a skip can cause complaints should it remain there for any length of time. And then there is all the hassle associated with getting a permit and finding somewhere to park it.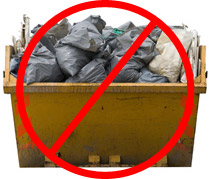 Of course there are times when skip hire really is your best option. In which case we'd be more than happy to arrange skip hire for you at a competitive price. However, Away With It can also provide a viable and cost-effective alternative in the vast majority of cases.
Nothing beats the flexibility of our trained teams. Boasting over fifteen years experience in this massive industry, countless customers throughout Whitechapel have chosen Away With It as their rubbish removal specialist of choice. We hope you will be next!
Get A Fast and Competitive Quote Now for Skip Hire Whitechapel
To discuss your requirements and get a fast and competitive quote for skip hire Whitechapel give us a call at either 0208 504 7390 or 07957 123 019. Our experienced team will be happy to recommend the most convenient and cost effective option and make the necessary arrangements. Or you can use our handy online form to get a quick and easy quote.