Searching for affordable skip hire Harold Hill RM3?
If you're tackling a building project or merely having a good tidy up you may reckon that skip hire Harold Hill is your best solution but have you thought about all the bother entailed with permit problems, issues with space, access and grief from your neighbours? Not to mention the costs!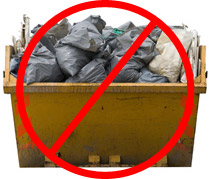 Obviously there are occasions when skip hire really is your best alternative. In which case we 'd be more than happy to organize skip hire for you at an affordable rate. That being said, Away With It can also offer a feasible and cost-effective alternative in the vast majority of scenarios.
Saving You Money and Hassle
Unlike the majority of skip hire companies who turn up whenever they feel like it and have a terrible reputation for reliability, we are always close at hand when you require our services. Following a preliminary consultation and a no-obligation estimate, just specify the time and the day that you wish our trucks to turn up. Two-man removal teams will make quick work of even the most demanding of jobs. We won't leave unless you are satisfied that the work has been completed to your absolute satisfaction. And the bulk of the rubbish we collect will be recycled instead of just being thrown in the nearest landfill site.
Another matter to be mindful of with skip hire is that you may be shelling out money for more than you need. Calculating beforehand what size skip you're likely to need can be a headache. But as a result of our experience in the field, we can correctly determine the amount of space your waste will occupy within our trucks and you only shell out for the space you actually make use of so that's never a problem when you choose our solution. What better way to put a bit of cash back into your pocket?
Get A Fast and Competitive Quote Now for Skip Hire Harold Hill
We strive to ensure that all our customers are offered the most economical and convenient skip hire option for their needs, whether they require a same-day pickup for a single load or a number of trips over several weeks for a larger amount of waste.
To review your alternatives and obtain an affordable quotation for skip hire Harold Hill feel free to call us at 0208 504 7390 or 07957 123 019 for further details. Alternatively, you can connect to us using our easy online form for a quick and straightforward no obligation quotation.