Looking for skip hire Hackney E8?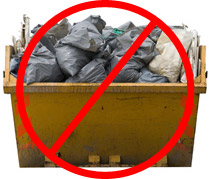 Are you looking to clean out the garage before the colder months of winter are finally upon us?  Perhaps you have just converted a loft into a guest room and are left with mountains of waste.  Has that tough garden project resulted in a pile of rubbish that is surprisingly large?  Of course, you may choose to employ a company which provides skip hire in Hackney E8 in these situations.  While Away With It is happy to offer you this traditional service, it is still important that we take a look at how our mobile lorry removal methods can save you a great deal of time, money and aggravation.
No Idea of How Much Waste Will Accumulate?  No Problem
One of the potential problems with standard skip hire is the fact that you only have a certain number of dimensions to choose from.  What happens if more waste accumulates than you had originally anticipated?  In most cases, you will be required to pay a higher fee for a larger skip.  On the contrary, we arrive at your property after having carefully observed the size lorry that we will need to bring.  Even if this requires multiple trips,you can be assured that we will not leave until every single piece of scrap has been efficiently removed.
The Viable Alternative to Skip Hire in Hackney E8
We offer our services on a 24/7 basis and as we operate our lorries in two-hour intervals, we can work around your busy schedule.  Also, we are able to provide you with a pickup on the same day if this is necessary.
All of this will be determined as soon as you contact us and speak with a qualified representative.  Then, we will arrive at your premises and walk you through with our removal process.  The price that we quote is the price you will pay. Not a penny more.  This is often not the case with other companies which offer more static services.
Get A Fast and Competitive Quote Now for Skip Hire Hackney E8
Whether you have an upcoming project before the holidays or you simply are ready to remove that large pile of compost from your back garden, we are here to help.  So, give us a call at 0208 504 7390 or 07957 123 019 to discuss your requirements for skip hire Hackney E8. If you'd rather not phone, we have a handy online form you can use to get a quick, easy no obligation quote.