"E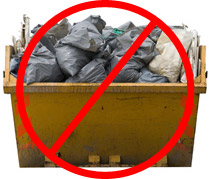 xcellent service and value for money." We will let our clients speak for themselves. If you are looking for skip hire in Hackney, why settle with anybody else? Our customer service sets us apart from the rest and as well as being fully licensed and insured, we are completely flexible to our customer's needs.
100% Satisfaction
At Away With It, customers are at the heart of our business. We genuinely care about giving you the best and most personal service to make your life easier. We know it can be tiresome trying to clear waste or get rid of builder's debris, which is why the team at Away With It make skip hire in Hackney extremely easy for you.
Why Choose Away With It?
As well as unrivalled customer service, it is our flexibility that customers champion. Service with a smile is a given, but few firms completely tailor a service specific for the customers. Why would we give our customers anything but the best? Open 7 days a week between 7am and 11:30pm, you can request a day and a time that suits you. If you have a query or have a special request, you only have to give us a call and we will happily accommodate you. We are only ever a phone call away.
Also, we do not just offer traditional skip hire. Whilst having a skip outside a property is ideal for those who want to sort through waste and pop it in the skip at their own pace, other potential customers may favour one of our two-man waste disposal teams more.
Our two-man waste disposal teams have trucks that can pop to your home and help you shift that unwanted waste quickly. This saves any need for a skip to be sitting outside your house if that isn't what you would like. Don't feel like you need to make a decision straight away, however. We'd be more than happy to discuss the benefits of each option with you to help you make the best decision.
Call Us Today for Hackney Skip Hire
Come rain or shine, our friendly teams are ready to jump to action to help you. All you need to do is give us a call and we can take you through the two options if you are undecided. We can provide you with a no-obligation free quote which you can go away and think about.
Once given the green light from you, we can put your package together. Simply tell us the time and date that suits you and we will get the ball rolling. Simply call out friendly team on 0208 504 7390 to discuss you skip hire needs.