Searching for skip hire Enfield?
If you're planning a big building project, moving house or simply having a good clean out you might think that skip hire Enfield is your best solution. But have you taken into account all the inconvenience involved with permit problems, problems with location, access and grief from your neighbours? Quite apart from the expense!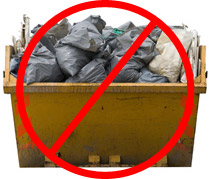 Naturally there are instances when skip hire genuinely is your ideal option. In which case we 'd be more than happy to provide skip hire for you at a competitive cost. However, Away With It can also offer a feasible and economical alternative in the vast majority of cases.
We're Not Like Most Skip Hire Firms
In contrast to skip hire contractors who turn up whenever they want (but never when they should be there), we are always close at hand when you need our services. After a preliminary assessment and a no-obligation quote, simply specify the time and the day that you want our trucks to turn up. Two-man removal teams will make fast work of even the most challenging of jobs. We won't leave until the job has been completed to your complete satisfaction. And we'll ensure that the majority of the rubbish that we collect will be recycled instead of simply being taken to landfill.
Why Pay For More Space Than You Need?
Another factor to bear in mind with skip hire is that you may be shelling out money for more space than you actually need. Working out in advance what size skip you're likely to need can be a headache. But due to our experience in the field, we can correctly determine how much space your rubbish will occupy within our trucks. As we charge on the basis of the actual space you use paying over the odds is not something you'll need to worry about. Nor will you end up paying to dispose of all your neighbours' junk which is a common problem with skips.
Most of all, your requirements are our first, last and only priority. Do you need a same-day pickup? Maybe you are looking for several trips for a large amount of waste?
Get A Fast and Competitive Quote Now For Skip Hire Enfield
Providing the most suitable and economical skip hire solution for your needs is our principal aim. Do you require same-day pickup? Perhaps you are looking for multiple trips for a large amount of rubbish? Either way, we can advise you on how to get the job done as easily and cost effectively as possible.
To go over your options and receive a competitive quote for skip hire in Enfield EN1, EN2 and EN3 postcode areas please contact us at 0208 504 7390 or 07957 123 019. Alternatively, you can use our simple online request a quote form and we will get back to you fast.