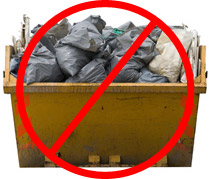 If you are seeking a fully licensed and insured skip hire company in Bow, Away With It are able to help. Whether your garage desperately needs clearing out or these is building refuse driving you round the bend, we want to alleviate headaches by providing a skip hire service best suited to your specific needs. Available across East London, we offer a reliable, flexible and cost-effective skip hire solution. Let us tell you have Away With It can get rid of your unwanted waste.
Traditional Skip Hire in Bow
Away With It have been offering skip hire in Bow for years and we are championed for our efficiency and cost-effective solutions. We often see customers coming to us repeatedly and many have been recommended by friends. With our ethos focused upon customer service and flexibility, you can be sure that you will be receiving unparalleled customer service when it comes to skip hire in Bow.
With Away With It, it is all about you. We want to make your life as easy as possible. We are open and ready to visit your home between 7am and 11:30pm, seven days per week. Our flexibility allows our customers to pick dates and times that suit them and we are well-known for our reliability. Our teams will always give you a call when they are on their way to your property, just to keep you in the loop and give you a specific time of arrival. Furthermore, no longer will you have to juggle work or take annual leave to have a skip delivered!
Once the best time has been picked by you, Away With It make sure we know the job inside out and are aware of any special customer requirements. We pride ourselves on offering a tailored service and we're not pleased unless you are. Even if you think your circumstances are tricky, get in touch and talk to one of our friendly advisors who will be able to talk you through our skip hire options and put together a plan that centres around you.
A Skip Hire Alternative in Bow
Although skip hire can be a fantastic option for some clients, we also offer a popular alternative that can be cost-effective depending on your requirements. Our two-man waste removal teams are ready and waiting to come and clear any waste you are looking to get rid of; even on the same day if needed.
There are a number of key benefits when it comes to utilising one of our waste removal teams. Whether you have an old fridge that you want gone, or several skip loads of household waste, no job is too big or small. Your team will load their truck as many times as you need and you will only ever pay for the final volume of waste we take away.
The best bit? Unlike traditional skip hire, you won't need to lift a finger. Whilst skips give you the freedom to fill and clear at your leisure, our duo teams will do all the heavy lifting for you.
Skip Hire or Waste Removal in Bow?
Deciding between skip hire or waste removal can lead to a number of questions. Fortunately, our experts are on the end of the phone and ready to visit your property to help you decide what the best choice would be for you. Our team member will be able to guide you in the right direction based upon the amount of waste and your budget, even giving you a same-day no obligation quote for both skip hire and waste removal. It is then up to you to decide what is best, take some time to think about it, our quote will always stand.
Whether you choose skip hire or opt for our waste removal teams, you can rest assured that your service will be bespoke to you. Our main concern is to get rid of your waste efficiently in a way you are happy with. More often than not, if you like the quote you receive, we can take away the waste there and then!
To discuss your solutions for skip hire in Bow and get a competitive quote please contact us at 0208 504 7390 or 07957 123 019 to talk to one of our friendly team.