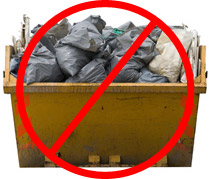 Whether you're having a good clear-out at home or planning some building work in Abridge, one of the most common headaches is what you'll do with all that waste. After all, the bin-men are likely to notice half your old kitchen jutting out the bin. Most people want to get their hands on a skip but, if you have never hired one, many don't know where to start. This is where Away With It can help you.
Abridge Skip Hire You Can Rely On
Away With It have been offering skip hire and waste removal services in Abridge for almost fifteen years. Over the years, we have built a fantastic reputation, with locals championing our flexibility and affordable pricing. There is a reason why we get so many referrals from friends and repeat clients!
In that time, we've built up an enviable reputation for the reliability and cost-effectiveness of our service. But don't just take our word for it; take a look at our homepage to see some of the reviews left by happy former customers!
What helps us stand out from the rest is that we truly care about making your life as easy as possible. We know your circumstances can be stressful, but we hope to alleviate that by giving you a nice big skip to get rid of all your clutter. We offer you a bespoke personal service and we're not happy unless you are.
Being local to Abridge, just down the road in Buckhurst Hill, means we are also on call to respond to your queries quickly. We are ready to help seven days a week, between 7am and 11:30pm. If it is required, we can even drop your skip off to you in Abridge the very same day. We will always fit in around your needs and tailor your skip hire service to suit your specific requirements. You won't need to wait around or juggle your work and children, just choose a two hour time slot that suits you. Our expert team will also give you're a courtesy call just to let you know they are on their way to your home.
A Skip Hire Alternative
Whilst skip hire will suit some customers, we also offer a service that may be more suitable for others. If you give us a ring, we will work out what is more cost-effective for you. Our popular two-man waste removals teams zip around Abridge clearing any waste you are looking to get rid of.
Our waste removal teams have a number of benefits. One that customers particularly love is that there is no waste removal limit – your duo will just load up the truck as many times as necessary. This means that the forgotten items in the garage and attic can be taken away no problem. Additionally, as we only charge for the final volume of waste removed, you'll often find such a service works out cheaper.
However, one of the best points about our waste removal teams is that you won't have to lift a finger. Granted, having the time to potter to and from your skip can be nice. But with a two-man waste disposal team you won't need to do any heavy lifting and the job can be completed quickly and efficiently.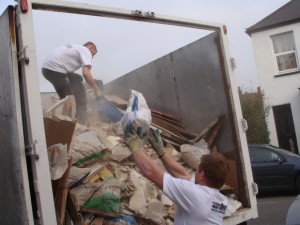 Skip Hire or Waste Removal?
So, you had your mind set on hiring a skip and now we have put a spanner in the works. Deciding on the best solution for your needs can be a complex business. Luckily, you can give us a ring and we will be able to advise you on the best solution for your waste removal job. We offer same-day quotes which means we will hop over to your property to assess the job and provide you quotes for each service. It is then up to you to decide. However, we are always available for any queries you may have.
We want your waste out from under your feet as much as you do and your needs are our first, last and only concern. We will give you the most cost-effective rate and offer you instant results if it suits you.
Our goal is to help you rid your property of waste as quickly and efficiently as possible, while charging you the most cost-effective rates around. If you like the quote we can often take the waste away with us right then – meaning an almost instant result for you.
To discuss your options for skip hire in Abridge and get a no-obligation quote please contact us at 0208 504 7390 or for further details.