Are you looking for a professional and reputable house clearance company in Upminster? We have the ideal remedy! Away With It have been supplying house clearance Upminster residents trust for over ten years. They really like our quick, hassle-free services and budget friendly prices and we're certain you will as well!
Reliable, affordable house clearance 7 days a week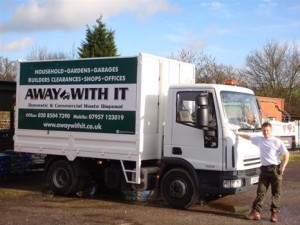 There are many reasons that you might be seeking house clearance services. You could be intending to market your home or simply want more space for your expanding household. It's possible that you're tired of being surrounded by piles of clutter or having a garage that's jam packed assorted clutter. Or quite possibly you have just recently lost an elderly loved one and need to clear their personal belongings before their home is sold?
Whatever your situation Away With It can supply a stress-free, first-rate house clearance service that's customized to your exact requirements. Our industrious and knowledgeable team will do the job quickly and make short work of getting rid of all your unwanted belongings.
House clearance Upminster home owners recommend
We have an outstanding record of providing house clearance Upminster resident consistently rate highly. Here are just some of the reasons that they are so willing to recommend our services:
You can have total assurance knowing that we are certified waste service providers. We will always do a professional job and handle any waste we collect lawfully and responsibly.
We aim to deliver a discreet and sensitive service and will work closely with you to ensure that the work is carried out with minimal amount disruption and only unwanted items are removed.
Before booking we provide a complimentary estimate that includes all labour, transport and disposal charges. On arrival we will confirm the price and if you decide you don't wish to proceed for any reason there is no call-out charge.
Appointments are booked in 2 hour slots and weekend or evening visits can be set up if more convenient for you.
We will ring up an hour ahead of time to let you know our precise arrival time so you're not let hanging about.
We will sweep up when the job is completed and leave your property clean and tidy.
Phone us without delay for house clearance Upminster
To consult with a member of our team about your needs for house clearance Upminster simply give us a call on 0208 504 7390 or 07957 123019.
Our professional staff are here to answer your call 7 days a week from 7am to 11.30 pm and will be pleased to answer any questions you may have and offer a complimentary no obligation estimate.
Or you can contact us using our simple online enquiry form and we'll get back to you promptly.