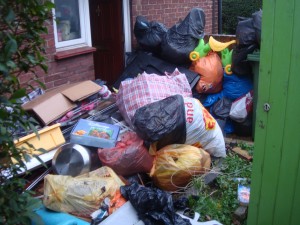 Here at Away with It waste removal and rubbish collection company we can meet your requirements and surpass your expectations with our Stratford E15 house clearance services.
What We Can Do For You
Our expert labourers are confident that they can remove any items you may wish to dispose of, from anywhere with little fuss. You might feel that hiring professionals to carry out your house clearance is a very expensive option; however we are undoubtedly much more affordable than you may think! What's more you will receive complete peace of mind as our team is properly insured so you do not have to worry about issues such as injury or accidental damage. After completion of the job our team of experts will make the extra effort to ensure that your home is left in an immaculate state. In addition we also guarantee everything removed is disposed of appropriately and wherever possible, reused & recycled and we are therefore proud to boast an outstanding recycle rate of 80%.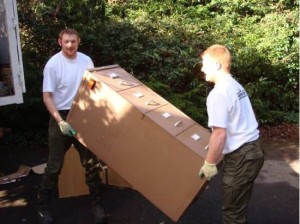 Why Choose Us?
Our team promise to provide a precise complimentary quote before beginning any job. However if you choose not to use our company it's not a problem, your quotation is obligation free! If you do decide to use our house clearance Stratford E15 service we will provide you with a two hour time slot and even give you a courtesy call to let you know when our people are on their way!
Arranging Your House Clearance in Stratford E15
We know that time is essence, so not only do we offer extremely economical pricing, but we also provide you with a service that is fast, reliable and very well done! We understand that in many circumstances a house clearance can be a difficult and emotional task and that's why we are committed to providing you with the quickest, most trustworthy service in Stratford. But don't only take our word from it, but why not have a look at our testimonials, where you can see that our customers are always completely satisfied with the service we provide. Our highly skilled team at Away with it are waiting to carry out your house clearance in Stratford.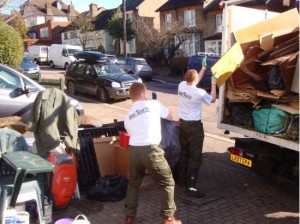 Risk-Free House Clearance Stratford E15
Here at Away With It we are proud to say that we are fully licensed and insured. This gives you peace of mind that your house clearance project is going to be handled exactly how it should be. We know that when you're arranging a service such as this, you want to know that everything is going to be done as promised. We have all the licenses and paperwork to help put your mind at ease. Of course the act that we have been in this business for over 10 years also helps to give you confidence that we know what we're doing!
Fill in the form with details of your house clearance in Stratford E15 needs or give us a call for a friendly, no obligation chat – we'd love to hear from you.  0208 504 7390 and 07957 123019!