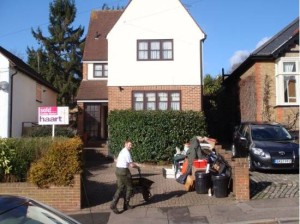 If you're seeking speedy and affordable house clearance in Dagenham, then get in contact with Away With It. The fully licensed firm are flexible to all customer requirements and can provide same-day quotes and collection. Our expert teams can take the stress out of house removal and the job will be completed effectively and efficiently. Away With It will also leave your property immaculate upon job completion.
Flexible House Clearance in Dagenham
No job is too big or too small for the Away With It team. We can remove a single item or clear an entire property. From heavy bulk items such as electrical appliances, to old kitchen and bathroom fittings, we can remove anything from your home that you want cleared.
At Away With It, we understand that finding a house clearance company that fits in seamlessly with your plans is rare. Fortunately, we offer quotes and collections seven days a week, from early in the morning to late into the evening. As a result, no matter what your plans, we can tailor our service to your specific needs.
Furthermore, with Away With It, you won't need to stay at home all day patiently clock watching. Instead, we will liaise with you in advance, detailing specific arrival times and any other pre-clearance requirements. So whether you're in the midst of a house move or cannot get any time off work, we can clear your house whenever is best for you.
A Reliable House Clearance Firm
It is not just our flexibility that makes us special. Having been offering house clearance for over 15 years, our team has always delivered the best possible service, ensuring at all times that you are happy and satisfied.
With a hard-working and friendly team to clear your house, who tidy your property after the job is complete, you will be hard pushed to find a higher level of service. We are able to clear almost any non-hazardous waste and maintain respect for you and your property at all times.
If you are worried about budget, you will always pay the best possible price with Away With It. Unlike other house clearance firms, we charge by volume of waste removed, not by "load". This often guarantees that our house clearance services are far more cost-effective than competing providers.
It must be remembered that we are fully licensed and insured waste removal experts, giving you peace of mind that your house is cleared abiding by all regulations and in a professional manner. At Away With It, we also have a green-approach, recycling 80% of the waste that we remove.
Get in Touch for House Clearance in Dagenham
Away With It have cleared single items from flats, to entire multi-bedroomed properties, so whatever the job, it is best to give our friendly team a call to find out more.
We can arrange a time most appropriate with you to give a no obligation quote and, if you're perfectly happy, we can then organise a date and time best for you to clear your house.
If you want to discuss your needs for house clearance in Dagenham, or would like to receive a quote from our team, give us a ring on 0208 504 7390 or 07957 123019. We are happy and available to take your call 7 days a week, from 7am to 11.30pm.