Do you need a house clearance Chigwell IG7? Is the idea of clearing your home in preparation to rent or sell giving you a headache and filling you with dread? Away with it can remove all the stress. We having been providing house clearance Chigwell residents can trust for more than a decade. We are a fully licensed, insured and environmentally responsible waste removal company and we offer a convenient, same-day service at a competitive price.
What We Can Do For You
Our team of highly experienced, reliable labourers can help you to create much needed space in your home quickly and efficiently. We can tackle any property no matter the situation or accessibility and promise not only to remove your unwanted items but also leave your property clean and clutter free. Our service is tailor made to suit you, so even if you require the disposal of one item we can provide you with our reliable service. We offer the disposal of a variety of items from flooring and furniture to electrical appliances from wherever you require and diligently ensure all objects are unwanted.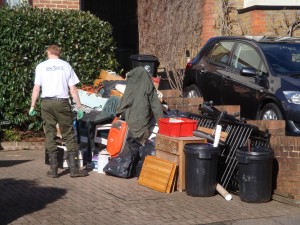 Why Choose Us For House Clearance Chigwell IG7?
Our 10 years' experience in this sector affords us the knowhow and expertise to provide a five star, trust-worthy service to our clients, so you can be confident that we are the company to come to your rescue! Away With It not only removeyour unwanted goods but we dispose of them responsibly, recycling 80% of all articles we recover from our customers.
We tailor make all of your services to ensure that there is something for everyone. We're happy for you to contact us for a chat with no obligation to go ahead with any order. Our years of experience have taught up that customer service is important so we always strive to offer an excellent level of service. Our prices are fair and as well offer house clearance in Chigwell and all of the surrounding areas then the chances are that we can help you.
Arranging Your House Clearance in Chigwell IG7
So if you need our services contact our experienced team and receive a free detailed estimate with no obligation to hire our services. The price we quote is guaranteed to be the price you pay! So if you make the decision to use our services not only we will provide you with a two hour time slot but we will also make a courtesy call to let you know when we are on our way.
Our customer service team are happy to help with any questions or queries you may have about any of our house clearance in Chigwell services. Give us a call or drop us an email today to have a chat about what we can do for you.
Risk Free House Clearance Chigwell IG7
We're fully licensed which means that you get peace of mind that your rubbish is disposed of correctly. We offer affordable, reliable and safe house clearance in Chigwell, so if that sounds like something that you would benefit from then please do not hesitate to get in touch!
Request a quote online today or give us a call (0208 504 7390 or 07957 123019) and we'll do our best to answer any questions you have as soon as possible!