We have been supplying house clearance Bethnal Green property owners rely on in for nearly 15 years. They appreciate our prompt, convenient and professional services and affordable prices and we're confident you will as well!
Fast, flexible and affordable house clearance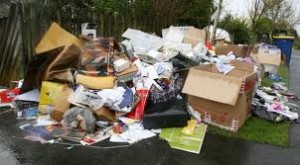 There are plenty of reasons that you might be looking for house clearance services in the E2 locality. You may be intending to put your home on the market and need to tackle that overflowing piles of assorted junk in your basement, garage or loft. Or possibly you have just recently lost a loved one and need to dispose of their personal belongings in order that the property can be put up for sale?
Whatever your personal circumstances, Away With It can provide a hassle free, top quality Bethnal Green house clearance service. Our dependable and knowledgeable team can get rid of all sorts of contents, from old clothing, soft furnishings, furniture pieces and electrical appliances to assorted garage junk, saving you time and hassle.
House clearance Bethnal Green locals trust
We are proud to provide house clearance Bethnal Green locals trust and gladly recommend to other people. Here's what you can expect when you use our services:
We are accredited waste carriers and fully insured. You can depend on us to perform a professional job and deal with any junk we collect legally and responsibly.
We will always work closely with you to make sure that the job is accomplished with a minimum of disruption and that only unwanted items are disposed of.
When you contact us to schedule your house and garage clearance we will supply a free estimate that is totally inclusive of all labour, transportation and disposal charges.
Our hours of business are 7am to 11.30pm 7 days a week. We can always offer evening or weekend appointments and in most cases the same day.
Reservations are made in 2 hour slots and we will call an hour ahead to let you know our precise arrival time so you won't have to wait in all day.
On arrival we will carry out a brief visual inspection and provide a firm price quote that includes all labour, transport and disposal charges. There won't be any disagreeable surprises when it comes to pay the bill.
Before we leave we will sweep up and leave the area clean and tidy.
Get in touch with us today for house clearance Bethnal Green
To talk with a member of our team about your needs for house clearance Bethnal Green just give us a ring on 0208 504 7390 or 07957 123019.
We are ready to take your call 7 days a week and will be more than happy to answer any questions you may have and supply a free no obligation estimate.
Alternatively you can get in touch using our quick and easy online enquiry form and we'll return to you promptly.