Do you need a garden clearance in Stoke Newington N16?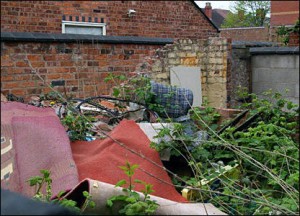 Here are just a few of the reasons why you can trust Away With It…

As a licensed waste carrier, you know you can trust us to:
Complete the job responsibly – what can happen is that some people, thinking that getting rid of waste is difficult, fly tip. This is where people dump rubbish and items in lay-bys, fields, side of the road etc. and is a blight on our local environment. This is illegal but, some less scrupulous companies have cleared items from a customers' property and then dumped it on the side of the road etc. This can result in a hefty fine if this rubbish is traced back to you. You need to be confident that the company you are engaging is professional and responsible.
Recycle – dumping items from a garden clearance in Stoke Newington N16 at landfill is no longer the accepted norm. With a 'zero waste economy' being pursued in the UK, we wholeheartedly support this initiative. This means that all waste has a 'value', whether this is financial, such as the sale of metal, or in terms of it being useful for to someone else as in the case of upcycling. This is where component parts of items are used to make other items or with a fresh coat of paint, for example, the garden bench you no longer want could be perfect for someone else's garden!
Provide a comprehensive service – all too often, customers call companies to provide quotes for a garden clearance in Stoke Newington N16 only to find that they will not take some items, such as chemical based substances or liquids. This is also true, in some cases, of skip hire too. As a licensed waste carrier, we have the knowledge and facilities to deal with all kinds of chemicals and items that need specialist process and disposal, so that they are no longer toxic or poisonous to birds, wildlife or the environment.
Act professionally – again, any job that involves lifting, moving, clearing and transporting items, from sheds to rubble, to insecticides and pesticides needs to be done safely and effectively so that no one or no thing is hurt in the process. Here at Away with It, we carry out every garden clearance in Stoke Newington N16 to the highest standard, from the moment we arrive, to the moment we leave; we even sweep up at the end, leaving you with a tidy garden!
Provide a simple-to-book service – we asses every garden clearance in Stoke Newington N16 BEFORE we start work so that we have the right people, tools and vehicles. We also use this opportunity to provide you with an easy-to-understand, but detailed quote so that you know exactly what you are paying for. And, we also guarantee that the price quoted IS the price you will pay… there are no hidden extras with us!
Call Away with It and book garden clearance Stoke Newington N16 TODAY!