Looking for a fast, efficient service for commercial waste removal in Upminster? Look no further! For more than a decade we've been providing commercial waste removal Upminster businesses trust and are happy to recommend. They love our fast, flexible services and low prices and we're sure you will too!
Flexible solutions for all types of business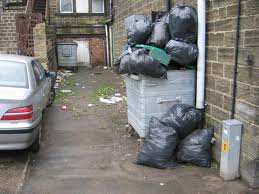 We have a diverse portfolio of clients in the Upminster area and can handle all kinds of business waste including:
Food waste – from restaurants, coffee shops and cafes. 
Cardboard / paper / packaging – from offices, shops and other types of business
Old furniture, fixtures and fittings – from builders re-fits to letting agency clear outs, we're the right company for your job
Empty bottles – if your bar or night club has a mountain of empty bottles to deal with we'll happily come along and sort out the problem for you
Our aim is to provide the best possible service at the right price with a tailor made package to suit the needs of each business.
Whatever line of business you're in and whatever your exact requirements we have the ideal solution. We work seven days a week from 7 in the morning until 11.30 at night. So we're available whenever you need us to pick up your commercial waste. We offer a choice of regular collections at a time to suit you or a same day on-demand service. Where kerbside collection is not feasible because of parking restrictions we are always happy to offer a wait and load alternative.
Customers who use our services on a regular contract basis benefits from generous discounts for an even more affordable service. However, we are just as happy to supply services on an "ad hoc" basis. Whether you need a single load removed quickly or require daily weekly or monthly collections we can handle them all.
Why choose our services?
We're proud to supply commercial waste removal Upminster businesses rate so highly and are happy to recommend to others. Here are just a few of the reasons why they trust us to take care of their business waste needs and why you can too: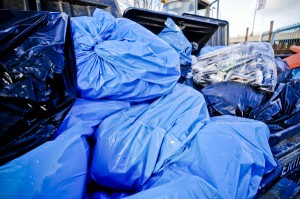 Our services are second to none with a same day removal service available if needed
All of our teams are booked with 2 hour slots which gives them plenty of time to not only remove the commercial waste but also to make sure that your business premises are clean and tidy before they leave
We strive to always arrive on time – and we'll give you a call an hour before we are due to confirm whether everything is going according to plan
We provide a 24 hour round the clock service to include Saturdays and Sundays
We are always ready to take your call between 7am and 11.30pm
We provide a fully insured service and are a licensed commercial waste removal and disposal service (click here to check our waste carriers licence)
80% of the business waste which we handle will be reused or recycled.
We will gladly remove single or individual items as well as full loads, partial loads and multiple loads of commercial waste from the Upminster RM14 area.
Call us now for commercial waste removal Upminster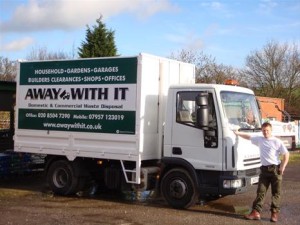 Give us a call on 0208 504 7390 or 07957 123019 – we'll be happy to  discuss your requirements for commercial waste removal Upminster and answer any questions about our services.
Our experienced team are on hand 7 days a week to take your call and will gladly put together a tailored service package to suit your budget and exact business needs.
Alternatively,  submit your details using our online enquiry form and we'll get back to you the same day with a competitive no obligation quote.
Away With It – working hard to help keep Upminster RM14 clean, tidy and free of commercial waste