Looking for commercial waste removal in Stoke Newington N16? Your search is over! For more than a decade we've been providing commercial waste removal Stoke Newington businesses trust and are happy to recommend. They love our fast, flexible services and low prices and we're sure you will too!
Fast, flexible and cost effective business waste solutions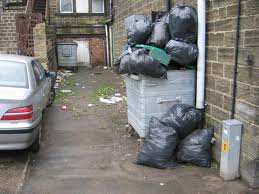 We are the experts in removing all types of commercial or business waste including:
Restaurant waste
Garden waste
Builders waste
Refuse sacks, bins and boxes
Empty bottles
Cardboard
Paper and packaging
Furniture, fixtures and fittings
Perhaps your particular business generates waste which is not on the list. No problem. Just pick up the phone, give us a call and we'll be happy to put together the perfect package for your needs, whatever type of waste you have.
If you are interested in having a commercial waste removal service on a contracted basis in the Stoke Newington N16 area you will be pleased to hear that we offer attractive incentives and discounts.
Or if you prefer to use our services on a more ad hoc basis then that's also fine. We offer a fast on-demand service. In the vast majority of cases we are able to collect the same day.
Why Stoke Newington businesses recommend our services
We're proud to supply commercial waste removal Stoke Newington businesses happily recommend. Here are just a few of the reasons why they trust us to take care of their business waste needs and why you can too:
Same day service for the ultimate convenience.
Seven day service from 7am to 11.30pm  – weekends, evening and early morning collections are not a problem
Business waste audits provided free of charge (with no obligation) for new enquiries to make sure that we discover the most cost effective and convenient commercial waste removal strategy for their needs
We offer an enviable range of benefits to our valued contract clients.
Our commercial waste removal services are fully insured and licensed – just for added peace of mind for our clients
80% of the Stoke Newington waste we collect is reused or recycled.
Call us for commercial waste removal Stoke Newington
Give us a call on 0208 504 7390 or 07957 123019 – we'll be happy to  discuss your requirements for commercial waste removal Stoke Newington and answer your questions.
Our experienced team is here seven days a week to take your call and will put together a bespoke package to suit your business needs and budget.
Alternatively,  for a no obligation quote submit your details using our online enquiry form and we'll get back to you the same day.