If you're looking for business waste services in the Plaistow area at an affordable price you're in the right place. Away With It has been providing commercial waste removal Plaistow businesses trust and recommend for more than a decade. They love our fast, flexible service and low prices. We think you will too!
Who we help
We serve businesses in the E13 area from many different sectors including:
Shops
Offices
Pubs
Night clubs
Estate agents
Letting agencies
Restaurants
Cafes
Coffee shops
Why choose our services?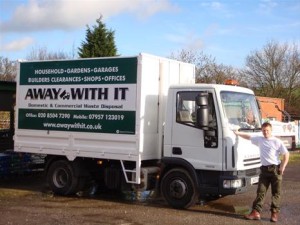 We are proud to supply commercial waste removal Plaistow businesses use time and time again and are happy to recommend to others. Let's look at a few very good reasons why like them you should choose us to handle your commercial waste removal in Plaistow E13:
We work seven days a week from 7am to 1.30pm. If you need an early morning, late night or weekend collection we'll be there.
We offer generous discounts to any business who we work with on a contracted basis
One off same day pick-ups are no problem to us.
We can collect individual items as well as full or partial loads
We provide a fully insured and licensed commercial waste removal service in and around the Plaistow E13 area
We will work with you to come up with the most cost effective and efficient waste removal strategy for your business.
80% of the waste we collect is recycled.
Call us for commercial waste removal Plaistow
Give us a call on 0208 504 7390 or 07957 123019 to discuss your requirements for commercial waste removal Plaistow.
Our experienced, friendly team will be happy to answer any questions and put together a tailored package to suit your budget and business needs.
And they'll provide a free no obligation quote that's fully inclusive of all labour, transport and disposal fees.
Alternatively, for a quick and easy quote submit your details using our online enquiry form and we'll get back to you the same day.