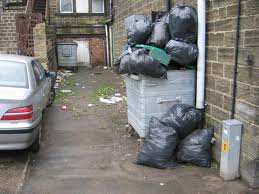 Looking for commercial waste removal in Collier Row RM5? Got some business waste you need moving in a hurry? Relax – we can do it for you. We've been supplying commercial waste removal Collier Row businesses trust and recommend for quality and reliability for well over a decade. And we offer some of the lowest rates on the market too so we're confident that like them you will love our prices.
Fast, flexible and convenient
Many businesses in and around the Collier Row RM5 area rely on us to deal with their commercial waste removal needs and you can too.
We provide a fast, reliable and professional business waste removal service custom made to fit perfectly with your business needs. Whether you need a regular collection or an on-demand service we can supply the perfect solution, 7 days a week from 7am to 11.30pm.
If you're a regular contract client we'll even carry out a free waste audit to ensure that your commercial waste is removed in the most cost effective way possible.
It doesn't matter what type of commercial waste your business generates – we are the experts in shifting it quickly and efficiently. This includes (but is certainly not limited to):
Paper, card and packaging
Restaurant food waste
Empty bottles and containers
Refuse bins and sacks
Furniture, fittings and appliances
Builders waste
Garden waste
In fact we are happy to remove any type of commercial waste you care to mention.
A large number of businesses in and around the Collier Row RM5 area leave their commercial waste removal needs to us and you can too. Our portfolio of existing clients includes:
Restaurants, cafes, coffee shops
Night clubs, pubs, bars
Offices
Shops and other retail outlets
Letting agents and / or  estate agents
This is just a snapshot of the types of business we can serve – whatever business you're in from the smallest individual concern to a large corporation – we can handle your business waste removal needs.
A few reasons to choose us
Many businesses have benefitted over the years from our same day removal service – we've certainly helped out in a few emergency situations
Our commercial waste removal services never sleep – we can pick up your waste around the clock, even on the weekends
Lucrative options are offered to our contracted clients helping their budgets to stretch even further.
Our professional teams always take the time to clean up any mess after they have removed the waste. They won't leave until they are happy that you are happy with the job they've done – clean, tidy and all swept up
We and our customers take pride in working towards helping the environment. That's why we endeavour to send as much waste as possible from the Collier Row RM5 area to be recycled or reused. This amounts of around 80% of the waste we collect – that's 80% less clogging up the earth in land fill sites
Our services are fully licensed and insured giving peace of mind to our varied clients across the Collier Row RM5 area
Call us for commercial waste removal Collier Row
If you would like more information or want to discuss your requirements for commercial waste removal Collier Row just give us a call on 0208 504 7390 or 07957 123019. 
Our experienced and friendly team are standing by to answer all your questions and will be happy to recommend the optimal solution and provide a competitive quote on a no obligation basis.
Or fill in our handy online form and we'll get back to you the same day.