Looking for a local, fully licensed company to cater for all your Wanstead E11 Waste Removal need? You're in luck! Here at Away With It we have years of experience in the Waste Removal game, and are one of the most experienced and highly rated waste removal services you will find in the Wanstead E11 area. Over the years we have built up a large customer base due to our reputation for being fast, friendly and most importantly cost effective.
We are happy to work with all types of property, and provide a wide range of Waste Removal services, covering everything from house, garden and garage clearance, DIY and Builders Waste Removal and a daily commercial waste collection service.
Our Waste Removal Services in Wanstead E11

Wanstead E11 DIY and Builders Waste Removal
Wanstead E11 Commercial Waste Removal
Why Choose Us?
We operate 7 days a week, from 7am – 11pm so can work around even the busiest of schedules.
Our same day service offers the chance to get your waste removed the day you make the call.
As we book in two-hour slots, and give you a call when we are on our way, you won't be left waiting around for us to arrive
We will provide a no obligation estimate before we do every job – if you're not happy with the quoted price, you can always walk away.
We are fully regulated and licensed, so you can be sure your waste is being disposed of responsibly.
We carry full insurance in the unlikely event of an accident on site.
You only pay for the space you actually fill, and as a result no job is too big or too small and there will be no hidden surprises when you pay the bill.
Talk to us today about our fast and reliable waste removal services in Wanstead E11!
Interesting Facts About Wanstead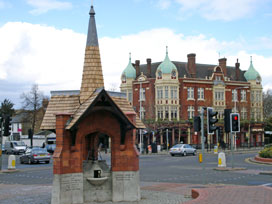 The name Wanstead is derived from the Anglo-Saxon wænn and stede, meaning 'settlement on a small hill', and was traditionally an outlying farming community serving the City of London. Later on, it became a retreat for wealthy townspeople, and the now demolished Wanstead House, described as the English Versailles, was one of the finest Palladian mansions in Great Britain.
It is also notable for being a hotbed of astronomy, with notable astronomer James Pound setting up a 123-foot object-glass on Wanstead Park in 1717. Later, he trained his nephew James Bradley who set up his own telescope on the site of Wanstead High School in 1727. The latters' observations established the existence of aberration of light, which allowed many future astronomers to calculate the effect of any star at a given date.
Wanstead is also home to The George pub, known for being a haunt of legendary highwayman Dick Turpin. The pub was historically known for its Cherry Pies, and indeed Wanstead was known for its cherry orchards as late as the 1830s, when they were mentioned by famed local poet Thomas Hood.
Today, Wanstead has a largely suburban feel, though it was infamously the centre of the M11 link road protests in the 1990s. These protests were covered internationally, and the establishment of Wanstonia, a self-proclaimed micro state, in a terraced house due to be demolished by the road-builders has gone down in local folklore.
Wanstead has been home to a wide array of notable people, including astronomers James Pound and James Bradley, quaker William Penn and Eastenders actress Jessie Wallace.
Useful Local Resources
http://www.redbridge.gov.uk/ – Website for your local council
http://www.johncryermp.co.uk/ – John Cryer, your local Member of Parliament
http://www.guardian-series.co.uk/ – Wanstead and Woodford Guardian, packed full of news and current affairs relating to Wanstead and the surrounding area.