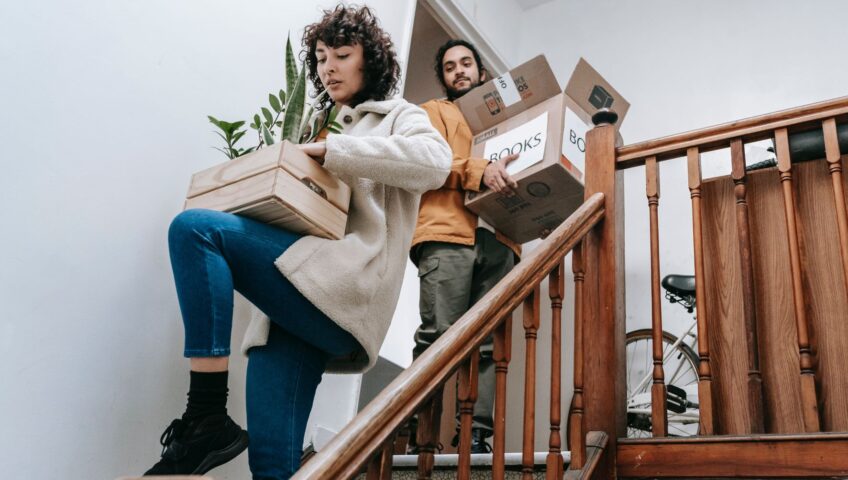 End of Tenancy Checklist for Tenants
Moving is often a complicated process and for tenants moving out of rented property, there are even more steps that need to be taken. Our below checklist can help tenants to move out and make sure everything has been taken care of.
Find Your Documents
When you know you'll be moving out of your rented accommodation, the first thing you should do is locate your documents. You should find and read your tenancy agreement and the inventory that would have been given to you at the beginning of your tenancy.
The tenancy agreement will state how much notice you'll have to give, which is usually at least one month. If you're in a fixed-term tenancy and you're ending it early, the agreement will set out what steps need to be taken to do this.
The inventory will describe the condition of the property when you moved in, so you'll know how you'll have to leave it when you move out.
Notify the Landlord and Utilities
The first person you'll have to notify when you move out of rented accommodation is the landlord. This is especially important if you are in a fixed-term tenancy that you are ending early, as you may need to negotiate the terms to end the tenancy.
Once you have confirmed with your landlord, you will then need to notify the utility providers, like electric, water, and gas. They will need to know the date you will be moving out and some providers may need meter readings given on this end date. You'll also need to inform the council that you won't be paying council tax for that property after your moving date.
Update Your Address
Once you have your new accommodation arranged, you should update any organisation that holds your personal details with your new address. This will include your bank, doctors, employer, insurance companies, the DVLA, the HMRC, and friends and family.
You might also want to set up a post redirection through Royal Mail, so any mail that gets sent to your old address will be automatically forwarded to your new address.
Remove Your Belongings
You will need to make sure all your belongings are removed from the property before your end of tenancy date. If your landlord has to remove anything that belongs to you or isn't in the inventory, you may lose some or all of your deposit. You will have to make sure every room and cupboard is cleared, including the loft, garden shed, and garage if your property has them.
If you have been living somewhere for a long time, it can be easy for items to accumulate. It may be that you have a lot of things that you don't want to bring with you to your new property. You could find it helpful to hire a professional waste removal company like Away With It to assist with house clearance or garage clearance. We can make your move hassle-free, by removing any items that can't be left in the property and disposing of them or recycling them. We can get rid of a single item or multiple loads, so no matter what you have left in your rented home, we can make sure it's taken away. We'll even sweep up when we're done, so you'll have less cleaning to do for your end-of-tenancy.
Clean and Repairs
Once the property is empty, you can start on the repairs and deep cleaning. Depending on your inventory, you may need to go around the rooms and make minor repairs, like filling in holes in the wall where you've put picture hooks or painting a wall back to its original colour. The number of repairs and decoration amendments you'll need to make will depend on what consent you had from your landlord when you did any decorating, and what the terms of the tenancy agreement are.
You'll also have to deep clean the property before you leave. Cleaning is a common reason that deposits are disputed at the end of tenancies, so you'll want to ensure a thorough job is done. You do not have to hire a professional cleaning company to do this, but you might find it beneficial as they will likely have experience with end of tenancy cleaning, so will know exactly what needs to be done. If you do hire a cleaning company, make sure to keep any receipts. Some letting agencies may have a cleaning company that they can recommend, which can help to save deposit disputes. However, you will not have to use their recommended company if you prefer not to.
Final Inspection
You should always attend the final inspection and check-out inventory, which usually happens a few days before your end of tenancy date. The landlord or letting agent will walk around the property and check the condition matches the check-in inventory. If anything looks to be wrong, you may have to discuss this with your landlord or letting agent, or you may lose some of your deposit if a repair or removal needs to be done.
You should also take your own photos once your items have been removed, any repairs have been completed, and the deep cleaning has been done. You can then use these as evidence if there are any deposit disputes.
Lock Up and Return Keys
On your final day of the tenancy, you should make sure all the doors and windows are locked when you leave, including the back door, the shed, and the garage if there is one. You should leave any instruction manuals for appliances that are being left are in an obvious place for the next tenant to find. You should then return the keys to the landlord or letting agent, as instructed in your end of tenancy terms.
Update Rental Standing Order
The last thing you'll need to do when you end a tenancy is to update your bank when the final rent payment has been sent from your account. You will usually have the rent on a continuous standing order, which means that the payment will continue to send unless you cancel it yourself.
If you're moving out of your property and need help to remove unwanted items, Away With It can help. We provide Romford house clearance, Ilford house clearance, and waste removal services all across Essex and the surrounding areas. Contact us to talk to our expert waste removal team members about how we can help with your house clearance.