Commercial Waste Removal in Poplar, Millwall and Isle of Dogs E14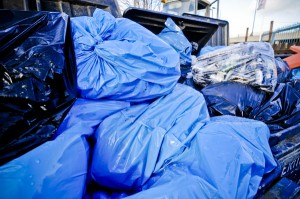 Away With It Commercial and Business waste removal services accommodate any sized businesses ranging from small residential businesses to large corporations.
We collect commercial rubbish from businesses all over London and Essex, our portfolio consists of Estate/Letting agents, offices, restaurants, nightclubs, bars, coffee shops, cafes and retail outlets.
We remove all types of waste such as restaurant waste, bottles, bag collections, cardboard, unwanted furniture and much more.
Away With It offers a quick and efficient service to cater for all your business waste needs.  Our smart uniformed teams will arrive on time, load and dispose of all your unwanted waste and even make sure your premises is swept and left clean and tidy.  80% of all our waste is recycled or reused at our network of waste transfer stations, thus reducing the amount sent to landfill.
Benefits we can offer you:
- Same day service
- 30 day payment period for account customers
- Discounts available for contract clients
- Free waste audit to determine the most cost effective solution for your business needs.
- 24/7 on demand service available.